Methylene blue significantly shortened time to shock reversal and length of stay in the intensive care unit, based on data from nearly 100 individuals.
Although methylene blue is often used to treat vasoplegia associated with cardiopulmonary bypass, only two randomized clinical trials performed more than 20 years ago have addressed the use of methylene blue in patients with septic shock, said Nuria Ayala Delgadillo, MD, in a presentation at the Society of Critical Care Medicine's (SCCM) 2023 Critical Care Congress.
The SHOCKEM-Blue trial was conducted at a single center in Mexico, and included adults aged 18 years and older with sepsis-3, said Delgadillo, a critical care medicine fellow at the University of Guadalajara, Mexico.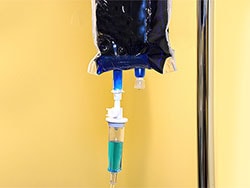 Methylene blue significantly shortened time to shock reversal and length of stay in the ICU, researchers reported at SCCM 2023.
In the study, 45 patients were randomly assigned to three daily 100-mg doses of intravenous methylene blue (MB) or a placebo. The median age of the MB and placebo groups was 46 years and 47 years, respectively, and 40% of those in each group were female. Other baseline clinical characteristics were similar between the groups.
The primary outcome was the time to shock reversal within 7 days, defined as the discontinuation of all vasopressors for at least 48 consecutive hours. Secondary outcomes included the number of vasopressor-free days at 28 days, all-cause mortality at 28 days, and ICU length of stay.
Overall, the time to vasopressor discontinuation was significantly shorter in the MB group compared to the placebo group (69 hours vs 94 hours, P < .0001). In addition, fewer MB patients required reinitiation of norepinephrine within 48 hours compared with placebo patients (11% vs 28%, P = .06).
The MB group had a median of 1 more vasopressor-day at day 28 compared to the controls (23.9 days vs 19.5 days), and averaged 1 fewer days in the ICU, Delgadillo said. The median time to lactate fluid normalization, cumulative fluid balance, and days on mechanical ventilation also were significantly lower in the MB group compared with controls.
The all-cause mortality rate at 28 days was lower in the MB group compared with controls, but this difference was not significant (33% vs 46%, P = .23). No differences appeared after treatment in the progression of LVEF, PO2/FiO2, serum creatinine, bilirubins, AST, or ALT after treatment. No severe adverse effects occurred related to the use of MB; the most common was green-blue discoloration of urine, which occurred in 93% of MB patients.
In an ROC analysis, a decrease in NE requirement by ≥32% after first dose of MB showed a sensitivity of 100% and a specificity of 92% for predicting shock reversal (AUROC 0.98, P < .0001), Delgadillo said.
The study was limited by the small sample size, and larger studies are needed to confirm the results. However, unlike previous studies, the longer observation period in the current study "allowed us to identify the benefit on patient-centered outcomes," she said. The results support the potential of MB as an adjunct therapy for treating septic shock, and patient response to the initial dose of MB might be useful to identify those who would benefit most, Delgadillo concluded.
Methylene Blue Is Worth a Try
"In recent years, an approach called 'multimodal vasopressor strategy' has gained popularity," said Miguel Ibarra-Estrada, MD, lead investigator on the SHOCKEM-Blue trial, in an interview.
This approach "is based on the use of more than one agent at low doses instead of a single agent at higher dose, aiming for an increased benefit while decreasing the risk of adverse effects," said Ibarra-Estrada, also of the University of Guadalajara. "Ours is the largest randomized controlled trial addressing the potential benefit of methylene blue as an early option in this strategy."
Ibarra-Estrada said he was not surprised by the study findings, as most of the current retrospective data and smaller randomized trials have shown a decrease in vasopressor requirement in patients with septic shock. However, in previous studies, conclusions regarding safety/benefit were limited by sample size, study design limitations, and/or short follow up to 48 hours or less, he said.
"As an inexpensive agent and according to our results, we suggest that methylene blue should be tried in all patients with septic shock identified within 24 hours," Ibarra-Estrada told Medscape. "Importantly, this should be done as early as possible after identification of septic shock, since the probability of benefit decreases rapidly as the pathophysiologic inflammatory derangements evolve," he added.
"Although our results are promising, this was a phase 2 pilot study designed to compare hours of norepinephrine requirement between groups; therefore, it is underpowered to conclude that there is a clear advantage in patient-centered outcomes such as mortality and hospital length of stay," said Ibarra-Estrada. Such an advantage should be confirmed in larger randomized studies to make a recommendation for the routine use of MB, he said.
The study received no outside funding. The researchers report no relevant financial relationships.
Society for Critical Care Medicine 2023 Critical Care Congress: Abstract 44. Adjunctive Methylene Blue for Patients in Septic Shock: The SHOCKEM-Blu Trial. Presented January 21, 2023.
Heidi Splete is a freelance medical journalist with 20 years of experience.
For more news, follow Medscape on Facebook, Twitter, Instagram, YouTube, and LinkedIn
Source: Read Full Article